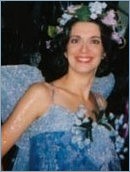 Hi, this is Chantal Pare, the stained glass fairy. Or just a woman with a box of fine point markers, piles of blank paper, inexpensive scanner, family computer, 30-yr old light box, rudimentary notions of html, but a head full of ideas. Check often, I plan to add several new patterns weekly.

Pen and ink
Yes, hand-drawn ink pen patterns may strike you as an oddity if you are accustomed to the more polished versions of stained glass patterns. In practice, it makes no difference - this I know from experience, having crafted many of my own patterns in stained glass. They all start as hand-drawn in pen patterns.

Why this web site?
I have built this site because the stained glass publishing business is much too slow to handle the feverish (ha ha!) rate at which I dream up new stained glass patterns. There is also very little room for oddball ideas such as sushi lamps and protozoa suncatchers. When introducing a book on the market, a publisher takes a very real financial risk, and is constrained to subjects expected to be in sufficent demand. Web publishing is free of such considerations. I can make and distribute sushi and protozoa to my heart's content!

Bear in mind that this is not a business, but a hobby. Web hosting $6/month, pens $12/month, paper $4/month, selling $4 worth of patterns - priceless!

Artistic objectives
Ultimately you are the judge of my success or shortcomings. My objective is to make patterns that are more naturalistic than those already found in print. A case in point are the snowflakes, which I managed to make without repeating pieces! I could have crunched them in the computer for a perfect six-fold symmetry, but that's not what they are like in nature. Frequently the patterns have more pieces, more complex shapes, and contain some small amount of delicate detail that can only be perfected with a 1/4" grinding bit. I also expend considerable efforts to avoid unecessary lead lines, by careful positioning of the design elements. These mere scans of pen-and-ink drawing hide a lot of thought and research.

FREE stained glass patterns
The free patterns are meant to be a representative sample of the style and quality of the patterns. I don't decide to distribute a stained glass pattern for free because it's not as nice as the ones I hope to sell. If it's not up to par, it ends up in the recycling bin. But I couldn't find enough butterflies that could be made in stained glass to my satisfaction for a suncatcher collection; the "orphans" ended up in the free section. It's my reward to think that it'll make people happy to find some GOOD freebies! Enjoy.

Thank you all!
Thank you for the feedback on navigation, encouragement, appreciation for the free stained glass patterns, and photographs. Again, it's a hobby not a business, and in many ways it's your kind comments that are my bread and butter.

Happy glassing!


Return to pattern index.